Funambals couchsurfing
Centre aéré des Lones 
Boulevard des Loisirs 69140 Rillieux-La-Pape. 45 minutes walking up to the Espace 140, 35 minutes coming down from Espace 140.
In Centre aéré park yous can put your tent. You'll have acces to toilets, showers and a kitchen. This year we can't provide any place in the dormitory.
You can buy tikets per night on our online tiket office : 6 € per person per night.
The centre aéré is no longer accessible to vehicles. However, you can park your car or motorhomes in front.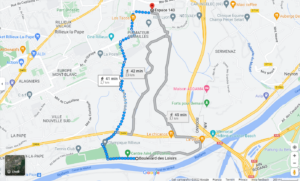 Renting
you can find some selected hotels, lodges, bed and breackfasts nearby here. 
Don't wait to book your favourite !
You can also look at :