BANDS
---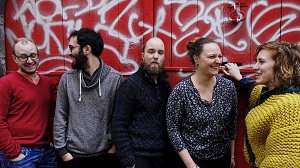 Komred
Evening of Friday 3rd April from 6:30 PM to 9:00 PM / at Espace 140
Antoine COGNET: Banjo, Guitar / Clémence COGNET: Violin, Singer / Cyril ETIENNE : Clarinet / Mathilde KARVAIX: Clarinet, Singer / Loïc ETIENNE: Diatonic accordion
Komred is a group of five young musicians that together and at a young age discovered the music and traditional dances from Auvergne at the Gamounet, home of the « Brayauds ». Always at the service of the dancer, a rich arrangements work makes the most of the tones and sounds of all the different instruments. The bourrées and other traditional melodies are fabricated, digested, coloured... all while respecting style, phrasing and rhythm. Adding their own compositions to the wealth of the local repertoire, the musicians of Komred offer an energetic and lively "Bal auvergnat", using the bourrée in 3 as the common thread!

References : www.youtube.com/watch?v=LFaDTkHp81g
https://brayauds.fr/creation/groupes-brayauds/komred/
Website:
https://brayauds.fr/creation/groupes-brayauds/komred/
---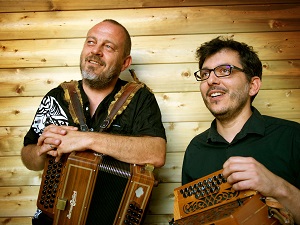 Duo Brotto Milleret
Evening of Saturday 4th April from 10:00 PM to 12:00 AM / at Espace 140
Cyrille BROTTO: Accordion / Stéphane MILLERET: Accordion
You already know them - they're involved in many projects, especially iconic duos of the french trad scene.
We could think their universes and approaches to dance music to be very different from one another, but the meeting between these two talented accordion players - among the grooviest on the dancefloor - is quite logical from the sheer respect they have for each other.
After a couple of musical exchanges, the intimate intuition that they were made to play togehter became quite obvious.
This duet is the reflection of two artistic paths that question themselves - they graze each other and meet again - between compositions and traditional tunes, between complementarity and complicity, accords and disagreements, jousting and symbiosis
Diatonic… dynamic, technical, rhythmic, atypical…
Website:
https://www.mustradem.com/spectacles/la-maison/duo-brotto-milleret" target=
---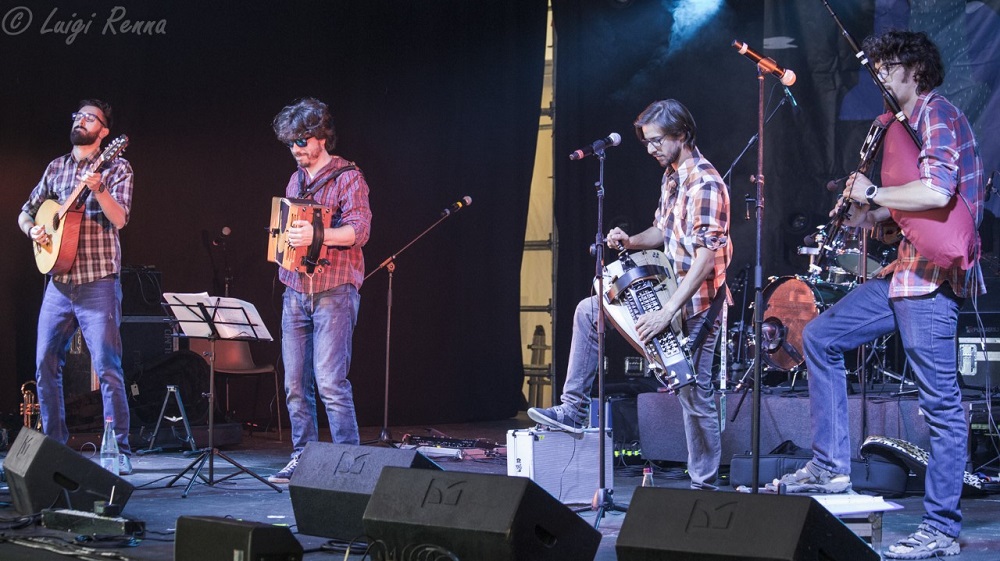 Balarù
Evening of Sunday 5th April from 4:00 PM to 6:00 PM / at Espace 140
Paolo Lombardo : Diatonic accordion/ Francesco Cavallero : Hurdygurdy + Singer / Andrea Lopomo : Bouzouki + Banjo/ Ilario Olivetti : Flutes / Clarinet / Musettes
[due to an unforeseen situation the group Baia Trio is replaced by Balarù]
Balarù in Piedmont dialect, means: "Who loves to dance. »
After several years spent between Italy and Europe, where they studied and played traditional dance music through Bal Folk, these four intrepid Piedmontese musicians decided to join forces.
Paolo Lombardo (Diatonic Accordion), Francesco Cavallero (Gurdy-Gurdy), Andrea Lopomo (Bouzouki and Banjo) and Ilario Olivetti (Flutes, Clarinet and
Musettes) have taken on the objective of reintroducing the old dances of their country in European folk balls.
A year of work: field research, old recordings transcriptions and old popular melodies arrangements to get everyone dancing!
Balarù offers a concert-show of folk ball centered on the Piedmontese repertoire, based on the studies of researchers and enriched with French and European suggestions and original compositions.
They propose dances from the vast Piedmontese repertoire: Occitan and Francoprovençal valleys, from the Roero and from the Waldensian traditions), not to mention the more famous ones, from the folk ball diffused throughout Europe (chapelloise, scottish, bourrée, mazurka...)
Website:
https://www.facebook.com/balaru.trad
---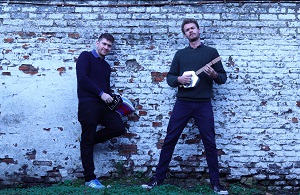 Loogaroo
Evening of Friday 1st April from 7:30 PM to 9:30 PM / at Espace 140
Pablo GOLDER: Accordion / Florian DE SCHEPPER: Guitar
Loogaroo is a new balfolk duo with Pablo Golder (diatonic accordion) and Florian De Schepper (acoustic guitar). After being on the road together for more than 6 years with different projects, Pablo & Florian recently started playing in a duo and decided to continue this new band which they named "Loogaroo". Not to be confused with "loup-garou", "loogaroo" is a Carribean mythological creature that turns herself into a bright ball of light to haunt the night. No wolf howling music but powerful and surprising melodies by Pablo, accompanied with Florians groovy and pumping rhythms that will keep you dancing all night long, even underneath a full moon.
Website:
https://vi.be/loogaroo
---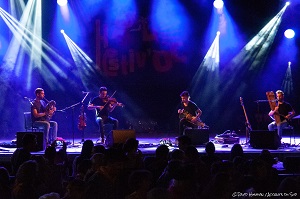 Trencadit
Evening of Friday 1st April from 12:30 AM to 2:00 AM / at Espace 140
Alexandre SELI: Violin, Feet / Martin LASSOUQUE: Bohas, Violin, Singer / Valentin LABORDE: Electric hurdy-gurdy / Jordan TISNER: Flabuta, Tamborin, Electric bass, Singer, Kick
nfused with traditional Gascogne music, Trencadit also boasts a healthy dose of rock and electro influences, creating their own brand of pop(ular) music where riffs and saturation conjure up an unbridled trance, mixed with traditional tunes and Occitan songs.
Website:
https://trencadit.jimdo.com
---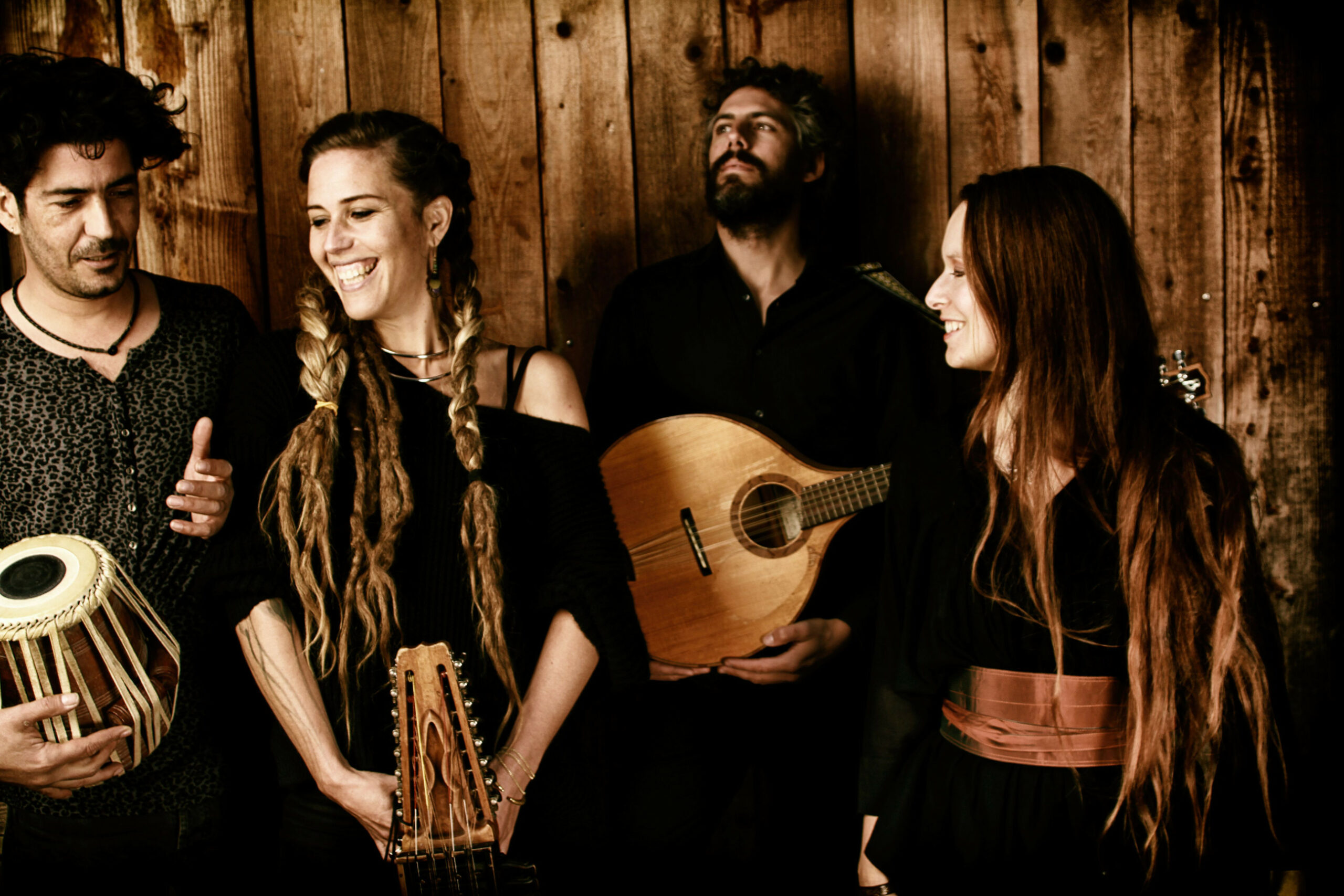 Imnari
Evening of Saturday 2nd April from 5:30 PM to 7:00 PM / at Espace 140
Aurore SÉGUIER: Nyckelharpa, Violin, Lyra / Laeticia MARCANGELI: Singer / Lionel BODIS: Indian tabla / Sylvain POOL: Cistre, Guitar
Imnari means "anthem collection" in Occitan. Dive into the Imnaginary universe of a bal where all 24 strings of cistreet and nyckelharpa pinch for the tablas, and rub against it, and where the dancer's hearts play in a passionate momentum - inviting them to an incredible trip! Nevertheless, we recognize - in the filigree of this music - an improbable lacework of roots buried in our migratory memories…Occitania, Sweden, Crete, India, Brittany: strong traditions which have influenced the compositions of these musicians.
Website:
https://www.imnari.com/
---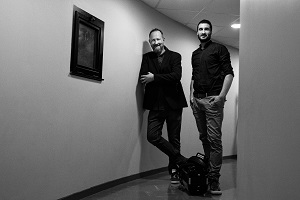 Duo Landat Moisson
Evening of Saturday 2nd April from 7:40 PM to 9:15 PM / at Espace 140
Thomas MOISSON: Mixed accordion / Lors LANDAT : Singer
Take two dance music enthusiasts, let the repertoire from lower-Brittany and kof ha kof dances simmer, sprinkle the melodic crunch of spicy arrangements and deglaze a modern breton swing the old-fashioned way, and you will get the Landat - Moisson duo.
The voice of one and the accordion of the other feed their "mojo" with living sources of some of the most thrilling repertoires, and attract us with an engaging
Photo Eric Legret
Website:
https://www.facebook.com/duo.landatmoisson
---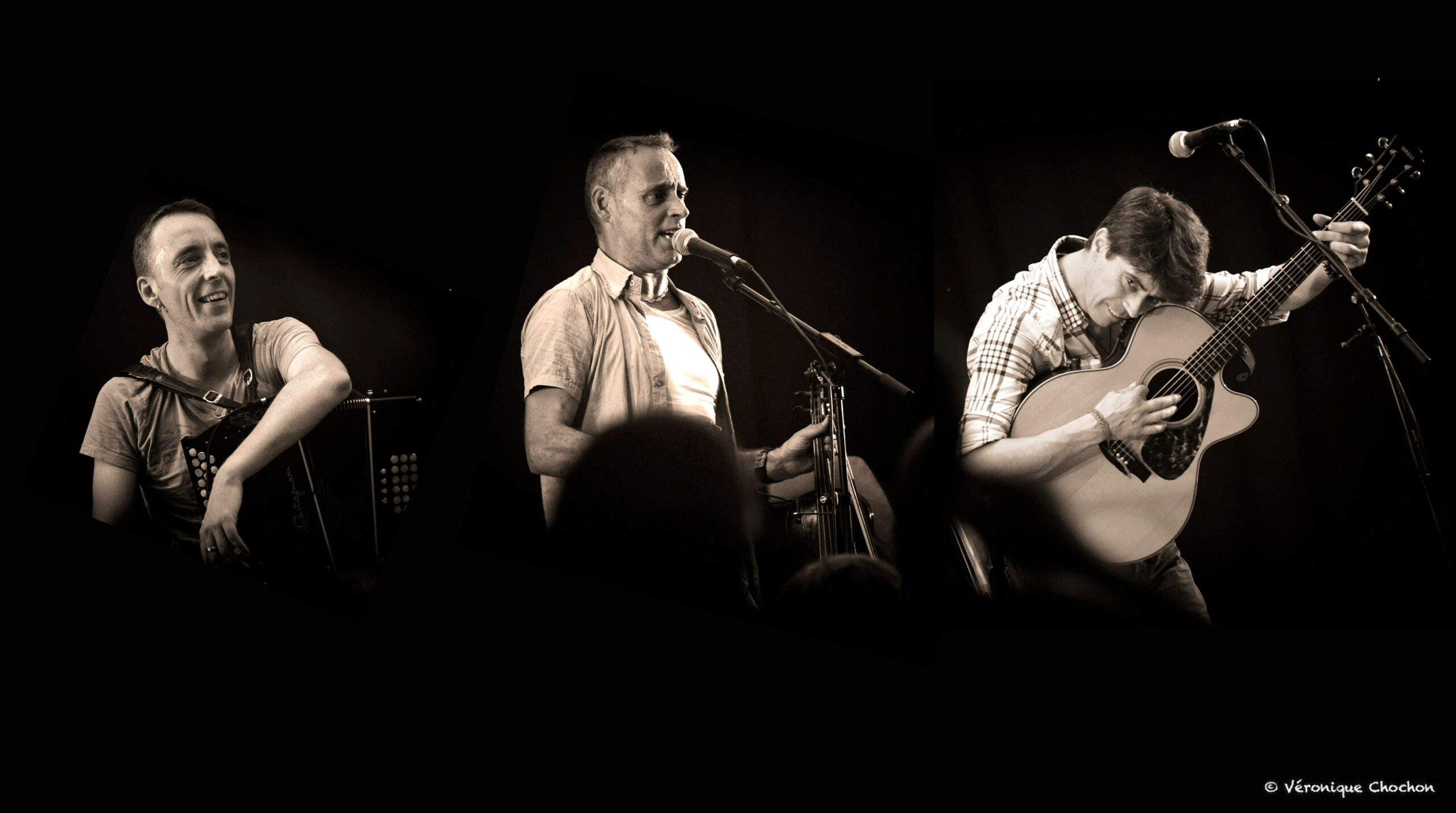 Arbadétorne
Evening of Saturday 2nd April from 9:45 PM to 12:30 AM / at Espace 140
Michaël AUGER: Diatonic accordion, Singer / Maxime CHEVRIER: Violin, Mandolin, Singer / Jeff RAMBAUD: Guitar, Singer
The musicians of Arbadétorne share with you their long history of dance music by offering a traditional bal with the rich repertoire of the Vendée: avant-deux, maraîchines, îles d'Yeu and Noirmoutier's circle danses, "grand'danses"… The overflowing energy of the bal in the "Arbadétorne style" makes the dancer embark on a story. An abounding universe made of circle-leading songs, buzzing violins, an aerial accordion punctuated by an obsessive rhythm on the guitar.
The leader's banter, an unbridled musical energy, a "small dance to put on your dancing shoes"... «  i te garantis qu'o va garocher ! »

Website:
https://arbadetorne.com/
---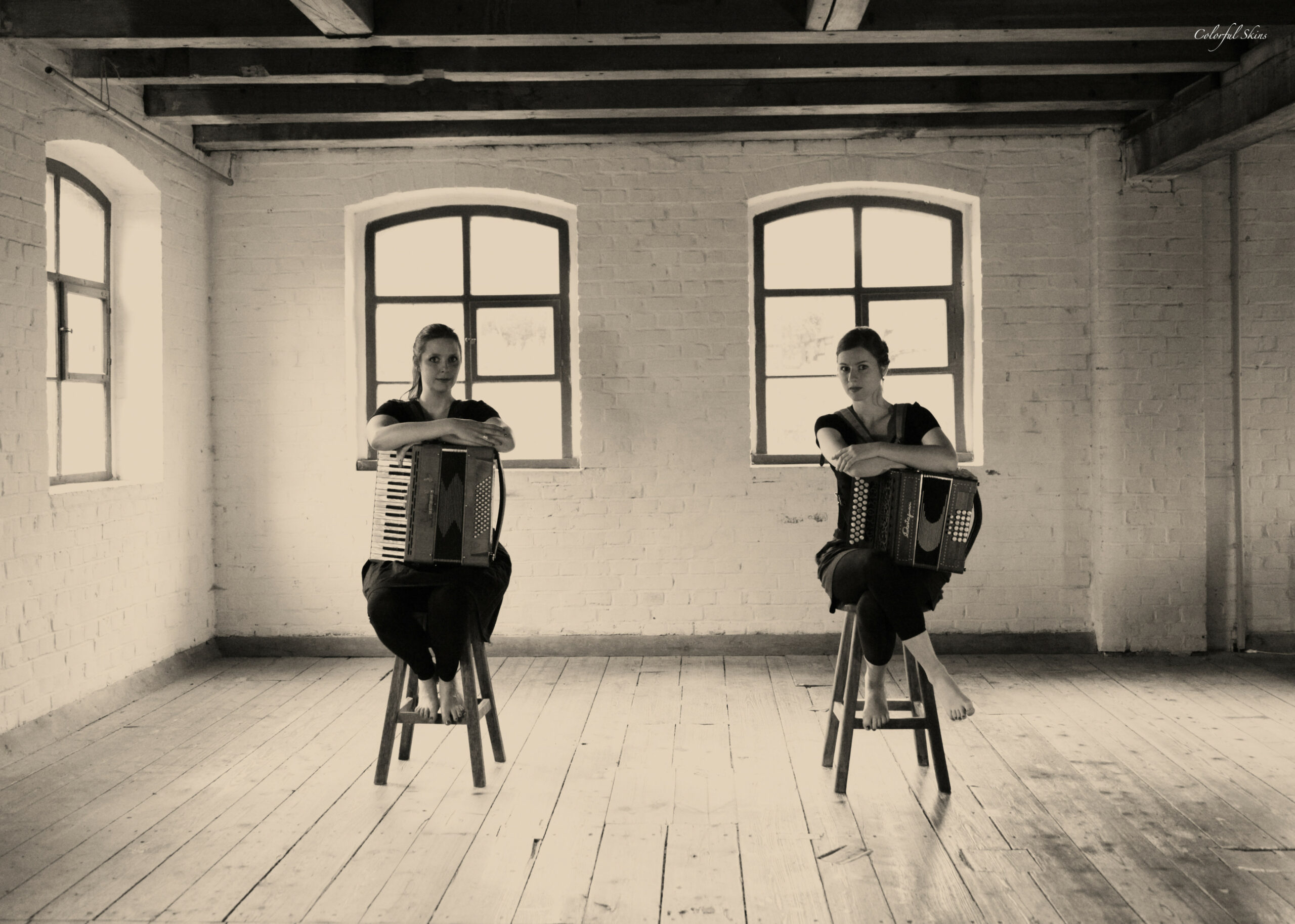 Les Zéoles
Evening of Saturday 2nd April from 1:00 AM to 3:00 AM / at Espace 140
Amélie DENARIÉ: diatonic accordion /Anne GUINOT : chromatic accordion
Les Zeoles was born in 2008 from the chance encounter of two accordion players : Amélie Denarié and Anne Guinot. Through their compositions, the duo brings their love of bal folk to the ears and feet of the dancers.
Bittersweet melodies and mischievous tunes spring up at the touch of their fingers, influenced by traditional music from France and Europe, as well as classical music.
They like to incorporate smaller instruments (senza, glockenspiel) in their search for the right note, the one that makes you feel all fuzzy and warm inside… an intimate and delicate moment.
Elles s'accompagnent de petits instruments, propres à leur univers, comme la senza, le glockenspiel... Toujours avec le même amour de la recherche, de la note juste, celle qui donne des papillons dans le ventre et que l'on garde bien au chaud une fois qu'on l'a trouvée…
Un duo aux mélodies minutieuses et minuscules…
Website:
http://leszeoles.net/site/
---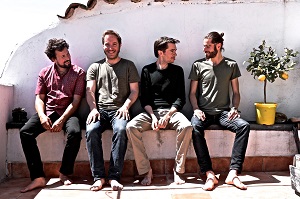 Petit Piment
Evening of Sunday 3rd April from 9:30 PM to 12:00 AM / at Espace 140
Arnaud BIBONNE : Singer, Bagpipes / Léo DANAIS : Drum set / Florian HUYGEBAERT : Drums / Lucas THÉBAUT : Diatonic accordion .
Petit Piment is the combination of four prolific musicians of the bal folk scene : Lucas Thébaut (accordion), Arnaud Bibonne (singer, bagpipe), Florian Huygebaert (drums), and Léo Danais (drum set).
For the dancers, but also for the concert, they have crafted a repertoire of compositions inspired by traditional music from Poitou and Gascogne, as well as their own arrangements of traditional tunes.
All of these are then imbued with Petit Piment's signature explosive afro-creole polyrhythms - an original and powerful mix that is sure to bring the heat to the dance floor.
Website:
https://lucasthebaut.jimdofree.com/accueil/petit-piment/
---